The Cherokee County Educational Foundation is a charitable, non-profit organization dedicated to supporting the students and staff of the Cherokee County School District by promoting teaching and learning and celebrating achievements.
The Foundation seeks funding and resources to enrich Cherokee County School District schools in areas not fully funded in the regular school program.
This is including, but is not limited to, grants for schools, grants for teachers and other staff; grants for students for academic and after-school/extra-curricular programs; and support for specific School District initiatives such as the Cherokee Academies and Bring Your Learning Device.
The Foundation is a Partner with the Cherokee County School District and supported by the Cherokee County School Board.
The Foundation will be governed by a Board of Directors that will conduct business according to bylaws established for the organization.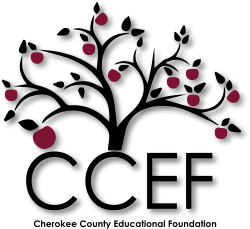 "Make the positive so loud that the negative is impossible to hear."

- George Couros