Events
Tuesday, June 6, 2023
Towne Lake Hills Golf Club
Deadline to Register: May 31st, 2023
PRESENTED BY:
Education First Realty Fund
Friday, June 23, 2023
Garland Mountain Sporting Clays & Grill
Registration: 8 a.m.
Shotgun Start: 10:00 a.m.
CO-PRESENTED BY:
Batson-Cook Construction & Northside Hospital Cherokee
50/50 Raffle will be Available
All players receive: grab and go breakfast, lunch, player gift
bag, 100 Targets, Box of Ammo, and golf cart transportation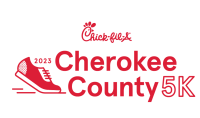 Over the past 9 years, The Cherokee County Chick-fil-A Five K has donated over $200,000 to the Cherokee County Educational Foundation and Cherokee County Special Olympics. We are honored to continue raising funds these organizations at the 2023 Chick-fil-A Five K.